I seem to have spent large parts of the past month or so travelling through Harlow on my way to or from Redricks Lakes for swimming, including one this week as the sun rose and one in the pouring rain. I really am addicted to this open water swimming – I am not fast, and I can't do front crawl as I don't like putting my face underwater, but the sense of well-being I get from being in the water is enormous. You can read more about the health benefits here. I am very aware of the water around me, the wildlife I'm sharing the space with, and my surroundings in a way that you don't feel in a pool. Today I swam two circuits of the lake – just under a mile in total – which is the equivalent of 60 lengths of my regular swimming pool. Swimming that distance indoors would bore me senseless – and because I tend to swim before work its hard to relax into the swim as I'm very conscious of what I have to do that day. There is always a clock ticking away in the pool too, which you don't have in the lake. I have no idea how long the two circuits took me today – but it doesn't matter!
Anyway, back to Harlow!
Harlow was one of the first wave of 'New Towns' created by the New Towns Act of 1946 to relocate people from bombed out areas (in Harlow's case, mainly north east London). It sits about five miles to the north of our village and it's where we go to the cinema, to buy school shoes and so on. It has a LOT of roundabouts. (I really mean this. A LOT.) Municipal Dreams (one of my favourite blogs) has a couple of good posts on Harlow New Town.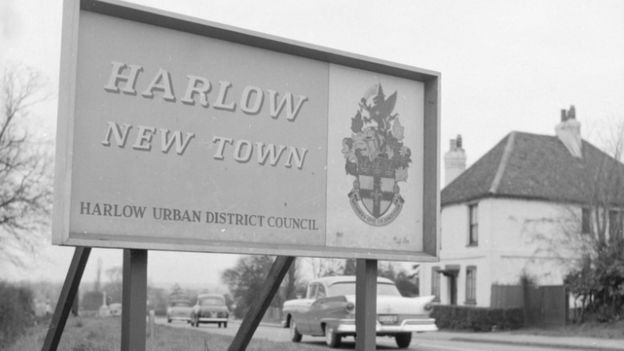 The first time I heard of Harlow was way back in secondary school in south Wales, in geography lessons as part of a case study on New Towns. To be honest, I didn't take a lot of notice back then as Essex seemed a remote and exotic place peopled entirely by blondes in white stilettoes and Capri drivers named Kevin (this was the '80s, and the 'Essex Girl' was a thing. Sorry, Essex people…). I certainly never dreamed I'd be living here – or that all three of my kids would be born in Harlow. We learned about the large quantities of concrete, the first pedestrian precinct, and the fact that the first residential tower block was built there. There's also large areas of green space (Gibberd's 'Green Wedges') and sculptures all over the place by all sorts of famous people. The town was rebranded in 2009 as 'The World's First Sculpture Town'. Museum Mum visited the town during lockdown and followed one of the trails – you can see her post here, and you can find the trails here.
The masterplan for the town was drawn up by Sir Frederick Gibberd, a modernist architect who spent the rest of his life living in the town. His home and its gardens were left to Harlow Council for the benefit of the town.
So this week my neighbour (and swim buddy) and I decided to drag our hordes away from Minecraft and TikTok and carted them off to Harlow to experience a bit of culture by way of a trip to the Gibberd Garden. Sadly the house is closed, due to the coronavirus restrictions, but the gardens have reopened. You pay for entry – £5 for adults, and children up to 16 years old are £1 each – and another pound for a really well produced map/trail that the children enjoyed using to identify the sculptures. There's not a lot of information about each (spot the museum person….) but that's what Google is for! Naturally Sue and I ended up carrying the maps in our usual role as parental packhorses, as soon as the children discovered the castle fort (complete with moat!) and giant swing.
The sculptures are scattered throughout the gardens, which are laid out over nine acres – some are items of architectural salvage, like the columns and urns from Gibberd's reconstruction of Coutt's Bank on the Strand – and you come upon them accidentally as they peek out of hedges and grottoes. There's a beautiful walk alongside the Pincey Brook, which has been dammed to create deep shady pools as well as diverted to feed the moat. The children particularly loved the 'Rapunzel Tower'.
The Gibberd Garden is currently open on Wednesday and Sunday afternoons, there's lots of free parking and refreshments are available – including lovely local ice cream which for the children was the best bit. I had a gorgeous, tangy lemon sorbet. I don't think we managed to see all the scupltures, so we'll be going back when the house reopens.
We were back in Harlow the following afternoon – this time for a trip to Harlow Town Park. The park was designed by landscape architect Dame Sylvia Crowe, who was a consultant on the Harlow New Town development from 1948 -58. One of the largest urban parks in the country, it's got pretty much everything you could ask for including a Pets Corner, skate park, adventure playground, inclusive play area, sensory gardens, a paddling pool, water gardens and ducks. This being Harlow, it also has the odd sculpture…
We parked near the Greyhound pub in the pay and display car park – there's a war memorial there, with a beautiful yarnbomb installation of knitted and crocheted poppies and forget-me-nots. It was also where we found the ice cream van, which is always what the children are looking out for. There is a nice cafe, I'm told, but we didn't make it over there.
The weather was a bit erratic, with thunder and the odd shower, so we didn't cover the whole park but we did spend some time at the outdoor gym before heading to the adventure playground where Thing 2 made a beeline for the top of the spiderweb climbing frame.
We walked over to the water gardens and through to the paddling pool, which is empty but the kids managed to find a puddle to jump in. They found a hill to roll down too, and spotted a carp in the pools. The ducks seemed a bit bored!
As an aside – I do love a bit of architecture and town planning, and developed a walking session called 'The building of Bethnal Green' for secondary and university students for the formal learning programme. This one focused on a section of Bethnal Green where you could see evidence of every urban planning movement from the original slum clearances of the late 19th century to the late 20th, including a peek at the last bomb site which is now a nature reserve. It covers Keeling House, designed by Denys Lasdun, which used to be the view from my bedroom window on Hackney Road.
Meanwhile, back at the ranch…
It's been a quilting week again! I finished the Space quilt (Lockdown Quilt 7) and I'm pretty pleased with it. The attention to detail in trimming the blocks to size paid off, and the sashing looks quite square even if some of the cornerstones are a bit out of line. I tried using a walking foot to quilt but the machine (the Singer Samba again) didn't like it much so some of the quilting is a bit skippy. I used some bicycle clips to help hold the quilt while I quilted it, which you can see in action below. You can also see my diagram for working out how many sashing strips and cornerstones I needed, and a cat who was not inclined to move while I tried to photograph the quilt laid flat.
It's come out at just over 5′ x 4′, and it's backed with a double duvet cover which meant no piecing. I used the backing fabric for a folded border as it echoes the stars theme. I LOVE the glow in the dark panels, and I added a little label – I bought some printed ones to add to my makes.
The next project is a Bento Box quilt using Rainbow Etchings jelly rolls by Stuart Hillard for Craft Cotton, and some pretty cream-on-cream blenders from Empress Mills. I cut the pieces yesterday, and raided the cupboard for all the plastic boxes I could find to separate the warm and cool colours and the different sized strips. I've never really thought about colours in terms of warm/cool before, so I bought a cheap colour wheel which helped me sort things out.
Here's the first block finished. I have cut and sewed all the centre pieces, so now need to add the outer pieces – I'm going to try the quilt-as-you-go method with this one. I've broken out the other vintage sewing machine as on that one you can drop the feed dogs, so if I'm feeling brave I may try some free motion quilting. Possibly! It's a high shank machine, so I'll have to buy an adapter to be able to use the snap-on quilting foot I have.
Things 1 and 2 have also been creating this week! Thing 1 has been customising a denim skirt that she bought in a charity shop (and raiding my jewellery making stash to do it!). She used my mannequin so she could work on the skirt easily.
Thing 2 has been tie-dyeing everything she can get her paws on. She bought a tie dye set with a voucher from her Granny, and it's been great fun. Co-op reusable bags have never looked so good…
Thing 3 has been creating in Minecraft. All three of them enjoy building in the game, and play quite nicely together.
I've heard this week that I should be back to work part time from 1 September, which I'm very much looking forward to! Still working remotely for a while, so not back in the museum yet, but how exciting!
See you at the end of week 22…
Kirsty x
What I've been reading:
Low Action (Vinyl Detective) – Andrew Cartmel
Peace Talks (Dresden Files) – Jim Butcher
Time to Depart (Falco series) – Lindsey Davis (Audible)